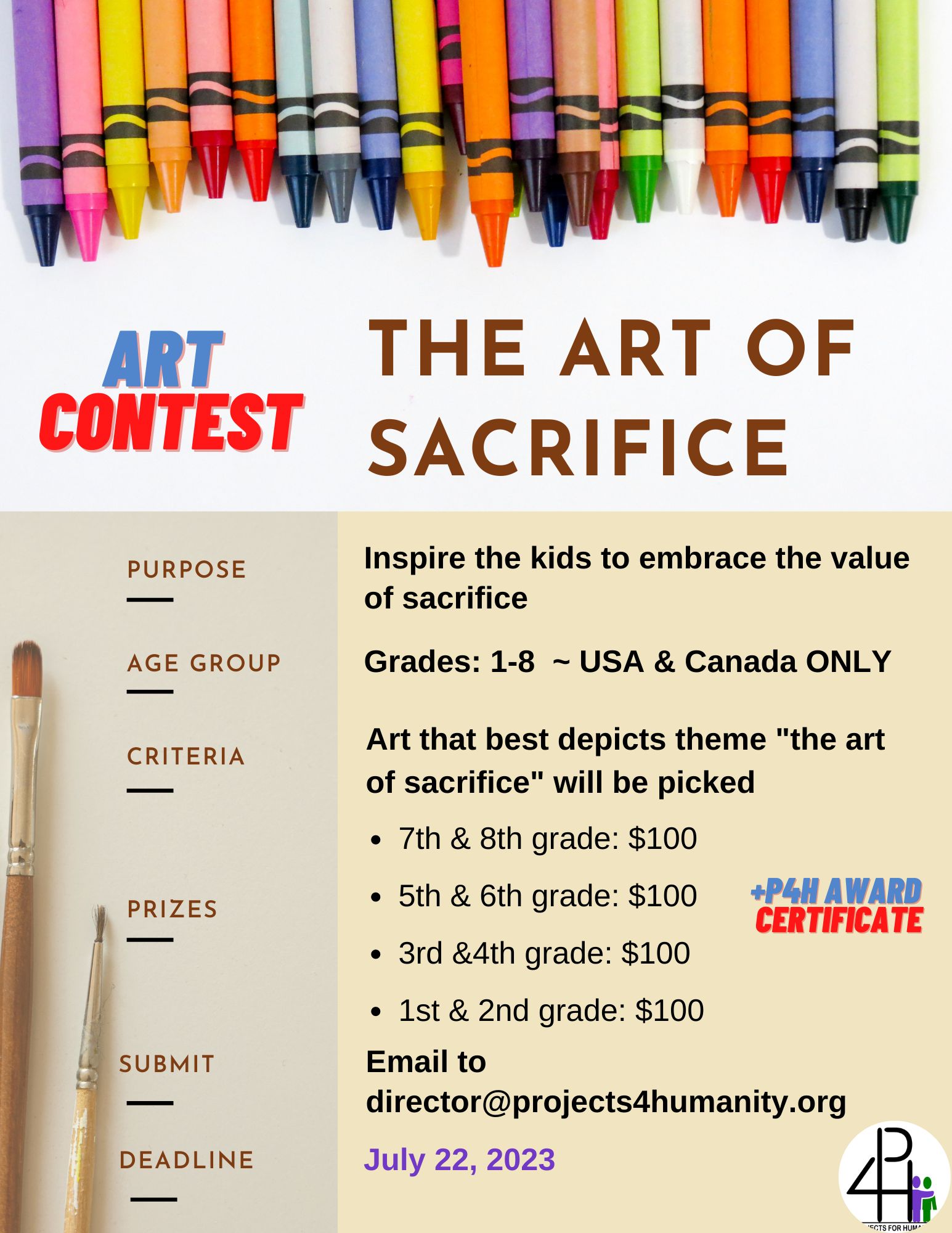 UPDATED DEADLINE: JULY 22, 2023 
We are thrilled to announce Projects for Humanity's Art Contest, celebrating the theme of sacrifice during the summer break and the time of Eid Ul Adha. Get ready to showcase your creativity and explore the profound meaning of sacrifice through art!
Art contest details :
Theme: The Art of Sacrifice.
Purpose: The purpose of the Art of Sacrifice competition is to inspire children to embrace the value of sacrifice for the sake of God, encouraging them to express their thoughts and emotions through art while reflecting on the importance of being selfless and giving back to others. This competition aims to foster a deeper understanding of sacrifice as a noble virtue and promote acts of kindness and generosity in the spirit of Eid Ul Adha.
Age: 1-8th grade; (USA & Canada residents only.)
Criteria: The art pieces will be evaluated based on their ability to best capture and depict the theme 'The Art of Sacrifice'. Judges will consider the creativity, originality, emotional impact, and the artist's ability to convey the essence of sacrifice in their artwork. The winning artworks will effectively communicate the concept of sacrifice, evoking a sense of empathy, understanding, and inspiration in the viewers
No human faces are allowed in the drawing. The art should effectively portray and symbolize the theme of 'The Art of Sacrifice' without featuring any faces in the drawing. Artists are encouraged to explore different elements, symbols, or visual representations to convey the essence of sacrifice.
Artists may include a brief text description accompanying their artwork to provide additional context or enhance the understanding of their artistic interpretation. However, the text should be limited and not overshadow the visual impact of the artwork.
Prizes:
One winner from 7th and 8th grade – $100
One winner from 5th and 6th grade – $100
One winner from 3rd and 4th grade – $100
One winner from 1st and 2nd grade – $100
All submissions must be emailed to director@projects4humanity.org by July 22, 2023.
Email must include:
recent picture of child
full name of child
grade level
mailing address
your art work
You don't want to miss out on the PRIZES!
Four WINNERS will be announced on social media, stay tuned!